THOSE ARE REAL BULLETS - Bloody Sunday, Derry, 1972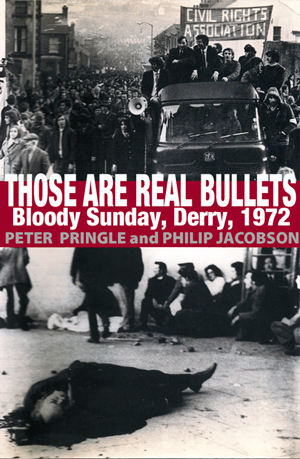 Co-written with PHILIP JACOBSON

At dusk on January 30, 1972, Barney McGuigan lay on the pavement in a pool of his own blood and brains, his head blown open by a paratrooper's bullet. Peggy Deery was near death in the hospital, the back of her leg torn away. Frantic relatives searched the morgue for their loved ones.

On that day, known ever since as Bloody Sunday, British paratroopers opened fire on unarmed Irish Catholic demonstrators in Derry, killing thirteen and wounding another fourteen. Five were shot in the back. A crucial turning point in the recent history of Northern Ireland, the killings galvanized Catholics in their struggle against the British presence in Ulster. A formal inquiry immediately after Bloody Sunday exonerated the British soldiers, despite hundreds of eyewitness accounts that none of the victims was armed, and left many questions unanswered. Now, for the first time, here is the definitive account of what actually happened on that day.